Commodore 64 & 128 - 1351 Mouse Rev A - ASSY A0101930
Personal Computer Ball Mouse - Dismantled for reference and curiosity

Commodore 64 & 128 - 1351 Mouse Rev A - ASSY A0101930
Opening note: To save initial confusion, I know some of you will be shouting that the ASSY numbered A0101930 board 1351 mouse is traditionally linked to the Commodore Amiga 500, 2000 and 2500 systems.

I originally had these listed as Amiga mice until a gentleman contacted me asking whether I was 100% sure they are for the Amiga and not the 64. I tested both on an Amiga 500 and neither worked. I then tested them on a Commodore 64 running GEOS and they both worked perfectly. The reason the contributor had asked to begin with is that he also had a A0101930 board mouse and presumed I'd made an error linked that ASSY to the Amiga. Turned out that between the two of us we had three examples that were for the 64 / 128.

So at some point it seem Commodore were releasing 1351 mice with an ASSY number of A0101930 and that likely accounts for the plugs on these matching the A0101910. Whether it's a PCB mistprint, some other accident in manufacturing or they had an as yet unfathomable reason for producing these, irritatingly, they do exist.

Back to the details...

Released in 1983, the 1351 Commodore 64 / 128 mouse (originally designed for the Amiga 500, 200 and 2500) is a fairly basic yet very well designed unit.

While extremely similar in design and almost visually identical from the outside, the Amiga and 64 / 128 versions are not compatible with each other's system; details below*.

The 1351 A0101930 was released in at least two variations; one with pushbutton switches and another with metal dome switches; both examples below.

The 1351 supports two modes, working as a traditional proportional mouse and also in a joystick emulation mode. The latter can be accessed by holding the right mouse button while turning on the Commodore 64 or 128.

The mouse came boxed with software to update the popular GEOS environment that was crying out for mouse support. The disc also includes utilities and details to help add mouse support to your own programs; list below the images.

When it was released, very few software packages supported the proportional mouse mode. In contrast the joystick mode enabled early adopters to make use of it surprisingly well. Many art and other creative packages written for joystick benefited greatly from mouse pretending to be a joystick.

Like most mice of its era, the unit features two action buttons and two encoder wheels to dictate X and Y positional movement.

* Identifying the Commodore 64/ 128 and the Amiga 1351 Mouse

As mentioned above, the 64 / 128 mice and the Amiga units us the same shell and so are visually identical. The most common telltale is that most of the Amiga mice use a cream version of the Atari 2600 joystick plug with a metal plug sheath. Unfortunately sometimes the Amiga mice have the same plug as the 64 / 128 version leaving no external visual indication.

Thankfully Commodore labeled the main circuit board with a different ASSY numbers; A0101910 for 64 / 128 units and A0101930 for the Amigas. The smaller button switch board ASSY number A0101920 is the same on all 1351 mice.
However, again unfortunately as mentioned above, there are some 64 / 128 mice with A0101930 ASSY numbers (likely limited release) meaning that even the PCB isn't a solid indication; however more often than not it will be a good guide.

Externally, if you have a small plug (as shown below) 1351 mouse, there is no way to be 100% sure what system it's for bar testing it.

The only certainties are a 1351 ASSY A0101910 board mouse is definietly for the Commodore 64 or 128. A 1351 with a cream Atari joystick style plug is for an Amiga 500, 2000 or 2500.
Commodore 64 / 128 - 1351 Mouse Rev A - Metal Dome Switches ASSY A0101930

Personal Computer Ball Mouse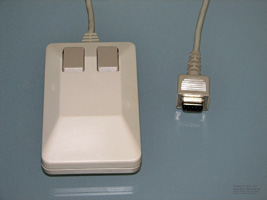 Commodore 64 / 128 - 1351 Mouse Rev A - Pushbutton Switches ASSY A0101930

Personal Computer Ball Mouse





The software disc included provided:

Side A: Drivers and Test Program

5 Startup.102486 PRG
3 COMM 1351 USR
1 MOUSE64.BAS PRG
2 MOUSE64.BIN PRG
7 MOUSE64.SRC SEQ
2 M1351.64.BAS PRG
2 M1351.64.BIN PRG
11 M1351.64.SRC SEQ
5 DATA64 PRG
6 DEMO64 PRG
2 MOUSE128.BAS PRG
1 MOUSE128.BIN PRG
7 MOUSE128.SRC SEQ
4 M1351.128.BAS PRG
2 M1351.128.BIN PRG
12 M1351.128.SRC SEQ
5 DATA128 PRG
6 DEMO128 PRG
1 MOUSE.POINTER PRG
3 SPRITES.0E00 PRG
575 BLOCKS FREE

Side B: GEOS Upgrade Software

GEOS Upgrade
18 upgrader USR<
7 gRABBER UPGRADE USR
7 mERGE UPGRADE USR
10 GEOdEX UPGRADE USR
0 BLOCKS FREE