ColecoVision Expansion Module No. 2
Steering Wheel Game Console Driving Controller - Dismantled for reference and curiosity

ColecoVision Expansion Module No. 2
While visually very neat the Coleco ColecoVision Expansion Module No. 2 / AKA Driving Controller is a pretty unimpressive bit of tech. The wheel is attached to a slotted disc that passes through a photo sensitive switch linked to limited smarts that count the breaks in light as the disc turns and sends that to the ColecoVision similar to how a traditional ball mouse works.

The 'gas pedal' is a very disappointing on / off switch instead of a potentiometer based analogue controller. The pedal can be removed and placed on the floor while staying linked to the main unit by a thin cable. The cable can also be unpluged from the main section.

The Driving Controller plugs into game pad port one leaving the second controller free for the player to start the games and make selections.

As the Driving Controller functioned the same way as the 'Roller Controller' and the wheel on the 'Super Action Controller' you really didn't need the Driving Controller if you had either of those bar for the mini steering wheel novelty.

The Expansion Module No. 2 was sold packed with the game Turbo and is compatible with other titles such as Dukes of Hazard and Destructor.
ColecoVision Expansion Module No. 2

Steering Wheel Game Console Controller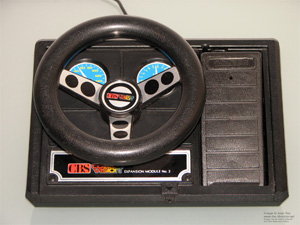 Steering Wheel Game Console Controller