Space Hulk Rhapsody
Style: epic rock ballard

Played the board game Space Hulk or by extension Warhammer 40k? Then this is for you.

For anyone else, if you like the idea of folks tromping about in power armour battling four armed aliens, then get on board!

Glossary; bolts=bullets / Genestealers=the aliens / Lightn... you'll work it out.

The main song vocals were recorded in one go and it shows! It's a tribute the amazing original music that you can put pretty much anything to it and it becomes an emotional rollercoaster epic!

FOR THE EMPIRE! - MP3 and video with lyrics download below


Vodka and Ammonia
Style: ... experimental

Vodka and Ammonia evolved over many months of dedicated procrastination.

It's the tale of one man's descent into uncertainty due to poor beverage choice. From an idea I had in the shower to months of having no idea what the song was going to be or even if it actually was a song at all to a fully fledged...... collection of sounds.

Experimental is probably being too kind with over thirty layers of sounds jostling for your attention.

Production: Synthesizer, drum machine, 'mouth noises', various effects gear, a Suzuki QChord and household items.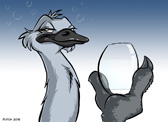 Accomplished cartoonist David (Dutch) Koppenhaver created this great piece of fan-art for the song!



Loch Ness Pickle
Style: heavy rock

Loch Ness Pickle is my first rock hard rock song... be very afraid!

Planned, written and recorded on and off over eighteen hours, this cautionary tale warns folks of the dreaded Loch Ness Pickle.

Production: Synthesizer, drum machine, various effects gear and a couple of hours of learnt guitar. Obviously I can't sing but hey, sometimes you just have to make a song about a pickle.

Time Stops
Style: ambient electronic..ish minimlaist electronica... maybe?

You know those idea that should probably just stay ideas? This is that.

This was a live recording where all sounds were recorded as played with little post mixing. It took about four hours to plan and prep before mashing record.

Not as tidy as something more produced, however the live, record it all in one go process was a hoot.

Production: Synthesizer, drum machine and various effects gear.

Walking with Kransky
Style: alternative

This was my very first song attempt and the audio was simply recorded with the movie function of my old digital camera.

I should stress that Walking With Kransky is unashamedly horrible. There's even a nonsense animated clip to go with it!

I can't play the guitar at all or obviously sing and pretty much made up most of the words on the spot. What I was walking through the house with moments prior!